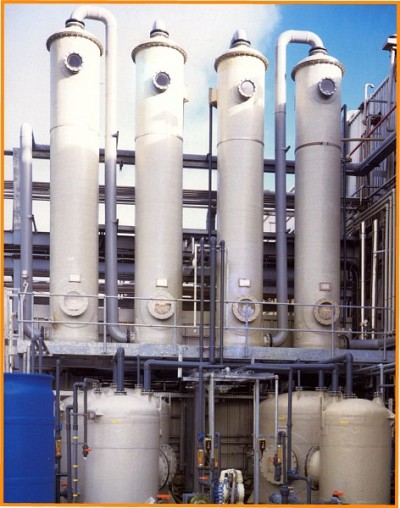 GPE Industries Limited (Gaeltara Plastics Engineering) has over 30 years experience in fabrication and installation of chemical processing equipment, Glass-reinforced plastic (GRP) Mouldings, piping systems including fume extraction, air pollution and odour abatement systems and all types of thermoplastic fabrication. The company has developed, manufactured and installed GRP and thermoplastic products, including tanks, ducting, piping and environmental control products, for the chemical, pharmaceutical, semiconductor, fertiliser and allied industries.
The company focuses on the quality of its products and services from design and material sourcing through to final testing, delivery and installation of finished products. This is achieved through the use of engineering design standards, to BS, USA-NBS, ASTM, ASME and DIN codes, the use of modernised production facilities, equipment and controls and close attention to efficiency and compliance with client specifications.
Fabrication
GPE Industries specialises in:
Fabrication of GRP and Dual Laminate storage, process and fluid treatment and conveyance components and systems for the chemical process, pharmaceutical, food, dairy and beverage, electronics, semiconductors, water treatment, agro-chemical, fertiliser, rendering, chemical users and allied industries

Site attendance and assembly

In situ complete equipment fabrication and modification

Deadline completion of site installation, modification and equipment maintenance during scheduled plant shutdowns

Fabrication of speciality mouldings
Materials
Construction materials are generally GRP , Fibreglass Reinforced Plastics (FRP), Reinforced Thermosetting Plastics (RTP) or Dual Laminate (GRP, FRP, RTP with thermoplastic lining).

The plastic thermosetting resin matrix materials are internationally source premium grade of polyester, vinyl ester and Furane resins. The polyester range embraces terephthalic, isophthalic, bisphenol fumarates, brominated and Het acid types.

The thermoplastic liners of Dual Laminate equipment include Polypropylene, PVC and PVDF.

The above materials provide excellent corrosion resistance across a broad range of mild to aggressive chemical environments at temperatures up to 175° C (350° F).

Compliance with FDA and USDA requirements is achievable.

Compliance with ASTM E84 Class I Flame spread rating is achievable.

A low smoke rating index of 50 per ASTM E84 is achievable.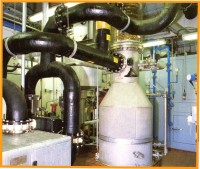 Contact us
to discuss your fabrication requirements.
---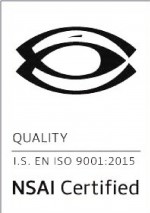 Tionscala GPE Teoranta
Registered Office Address: Annagry, Co. Donegal, F94 TV08, Ireland
Company Reg No.: 161034
Is comhlacht Gaeltachta é Tionscail GPE Teoranta, Ionnaithe in Anagaire i nGaeltacht Dhún na nGall, le formhór na bhfostaithe ón cheantar mór-thimpeall.